Have you ever served your child a plate of steamed vegetables? Did it end well? Unlikely. It isn't because children don't like the idea of being healthy, with so much delicious competition in the fast-food world, they simply don't like the idea of eating healthy.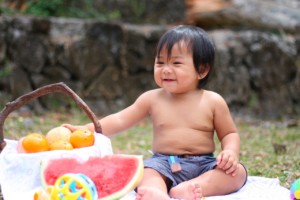 And while it may seem like you are fighting an unwinnable battle against fast-food giants for your children's taste buds' attention, there are a few tips and tricks which you can employ to help ease the transition to healthy eating, such as the ones below.
Slow and Steady Wins the Race!
Never has the saying been more appropriate than introducing your children to healthy eating. When starting, it's important to remember that you are playing a long game, not a short sprint, with the goal of your child actively seeking out healthy food and making healthy food choices items when are outside the house.
With this in mind, introduce new items slowly, and don't' be offended if they aren't touched at all. For example, simply introduce one new food onto their plate each week. Don't replace another item for it, simply add it, say nothing, and see how it goes.  Then, as the week goes on, begging to use it as a replacement for regular items until it becomes a staple on the plate.
Combat the Flavor
Fast-food restaurants use flavors to entice your child's taste buds, so why not play by their rules? Instead of simply serving up steamed or blanched vegetables, add some butter to the top of the corn or the peas, or make a gravy which you can add to any vegetables to help make them go down easier and more cooperatively.
Once you have successfully used the flavor to introduce your child to a new vegetable or healthy food options, gradually remove the flavor. You can do this by either leaving it out of the recipe when you're cooking or you can purposefully forget to bring it to the table as you set it.
Make Eating Healthy Fun
Your youngsters are more likely to finish the items on their healthy plate is their favorite cartoon character is underneath waiting! Check out children's plates from the Groupon Coupons page for Neiman Marcus and grab some fun plates and cutlery sets solely for your child to use and enjoy. You will be surprised by how quickly a child will eat their greens is it means they can see Peter Rabbit causing monoecious on their plate underneath.
Similarly, if your child is at school, buy a selection of colorful and cartoon filled lunchboxes which you can swap between each day and fill with healthy food items in addition to their regular lunch and snacks.
When it comes to transitioning children to a healthier eating plan, it isn't going to be an easy or enjoyable activity. However, using the tips above can at least make the task somewhat more pleasant and a lot more successful.