Covid-19 has put so many families waiting in vain. The feeling of emptiness when you realized that this is supposed to be the time when you get to hug and kiss your family, but you can't. You can't because you live far away from them. And the pandemic has put an even longer distance between you. The feeling that you are eagerly yearning for their embrace but just impossible. Just impossible, for now!
Dear Survivor,
I haven't really thought of writing to you nor sharing your own story with others, I just thought that this will somehow make you feel at ease even for just a moment.
Remember last year when you were cramming because your son had an allergy all over his body? I know you were scared. I know you tried to be calm for him. You called almost everyone you can. You searched every possible remedy you can do at home. And even without the help of anyone, you got through it. Your son got better.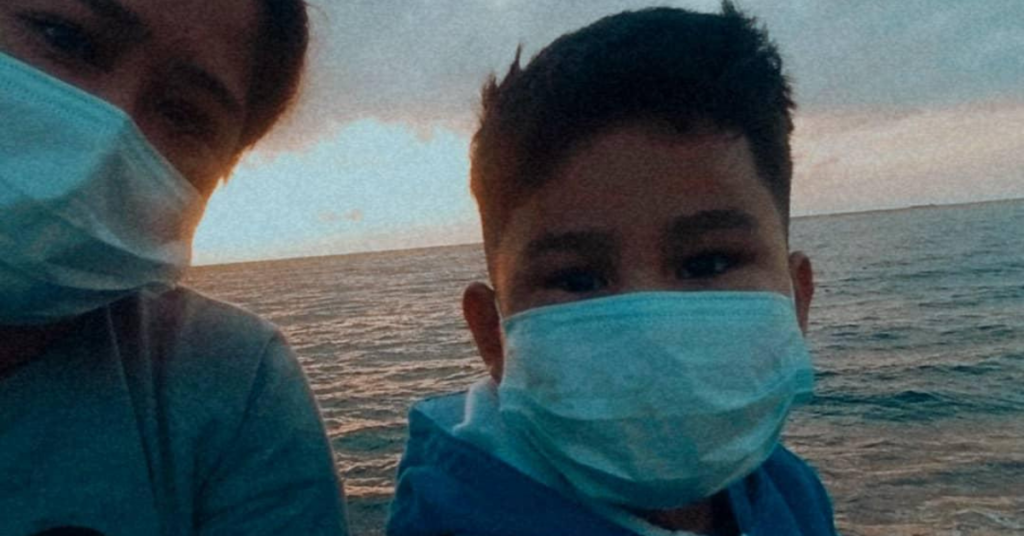 Independence Day, the same day when everyone in your hometown would gather together to celebrate the feast of San Antonio. You saw your Facebook friends sharing photos and videos and how much fun they had. You wished you were there. Laughing, dancing, singing, and just spending crazy times with the family. But you weren't. You weren't there.
So you turned another year last year! I saw you crying. You cried because you wished you weren't alone. But you weren't. Remember you spent the entire day with your son? He was your person that day, and he will always be your person in all days of your life no matter what. So don't you dare forget that!
Christmas came and then New Year. Oh, I get that. It's pretty normal to get emotional especially during special holidays. It wasn't a hundred percent Merry and Happy, I know. I felt what you felt. Remember before the countdown on New Year's eve? You went outside the house with your son. You watched those beautiful fireworks together. Both of you were amazed and were laughing together until your 6-year-old son said, "I wish it's not just the two of us Mommy!". Tears fell down because you wished that too. You heartily wished that too. But you and your family were safe. That's all that matters, right?
This pandemic took some of your good friends away, friends that you could not afford to lose. Friends that even though you weren't able to see for some time, remain good friends. This pandemic challenged so many relationships. Patience and understanding, and loyalty are tested. This is so far the longest time you haven't seen your life partner right? Yes, the longest since you met 11 years ago. I know it's hard. A long-distance relationship is never easy. You believe that this will work, so this will work. Because the last time I checked? You're both growing together and the relationship is growing stronger.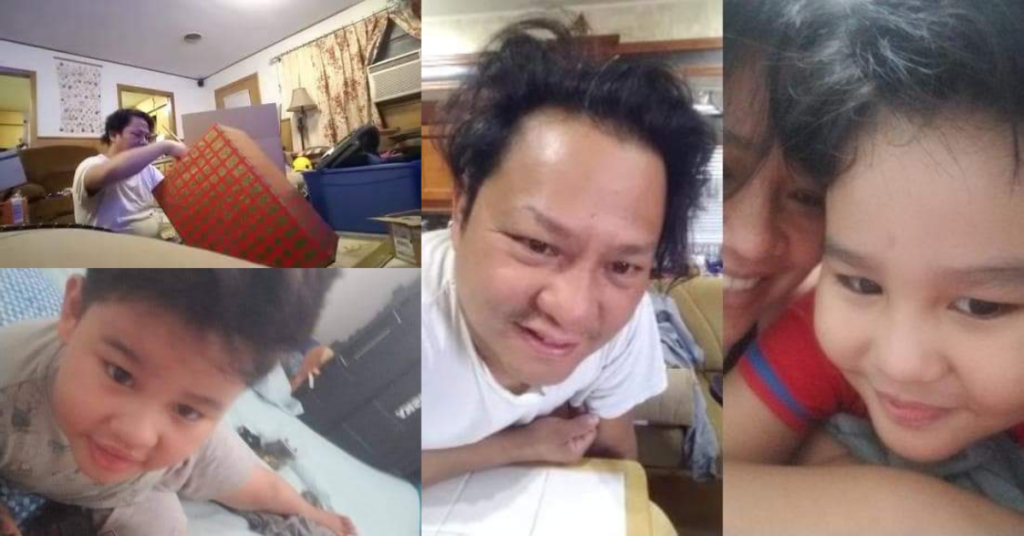 Oh, the beach! Remember that you grew up sneaking a quick swim in the ocean and ran back home so you won't get caught by your parents but you still did because you're already so dark? It was a fun childhood, right? But now, every time you see beach photos you'd rather cry. Because there's no way for you to be on the beach right now. There's no way for you to enjoy being on the beach sooner. I know it's hard because you staying at home literally for more than a year is the total opposite of the real you. But you're hanging on. Waiting may not always be a good thing, but it is a better thing right now.
You took one step higher already when you decided to pursue one of your dreams – that's Chenina. Though it didn't come as you expected it to be, it's surviving. It's progressing. And small progress is still progress. Just one step at a time. I am so proud of you. You may not be able to get it all according to your plan, but remember that God's plan is always better than yours. Have faith in Him.
When you feel like crying for unknown reasons, then cry. It's okay to let the tears roll over your beautiful face. You are not a robot. You are not a lifeless mannequin. So it's okay not to be okay sometimes. It's okay to worry, it's okay to feel lonely, it's okay to be sad and frown and get angry. Be emotional. Let it all out. But don't let those negative emotions eat you. Release that psychic pain. You are strong and great. You are beautiful and needed.
This might take a long while. So please hold on a little longer. Online chats and video calls may not be enough to cure loneliness, but we'll get through this together. Life plans may take a big pause for a while, but not forever. I know anything can happen at any time. But please wait a bit more. You've survived 2020, so there's no way you can't beat 2021.
Remember that there's a past version of you that is so proud of how far you've come. And there will always be a future version of you that has so much to thank for.
Love,
Your present self – a survivor.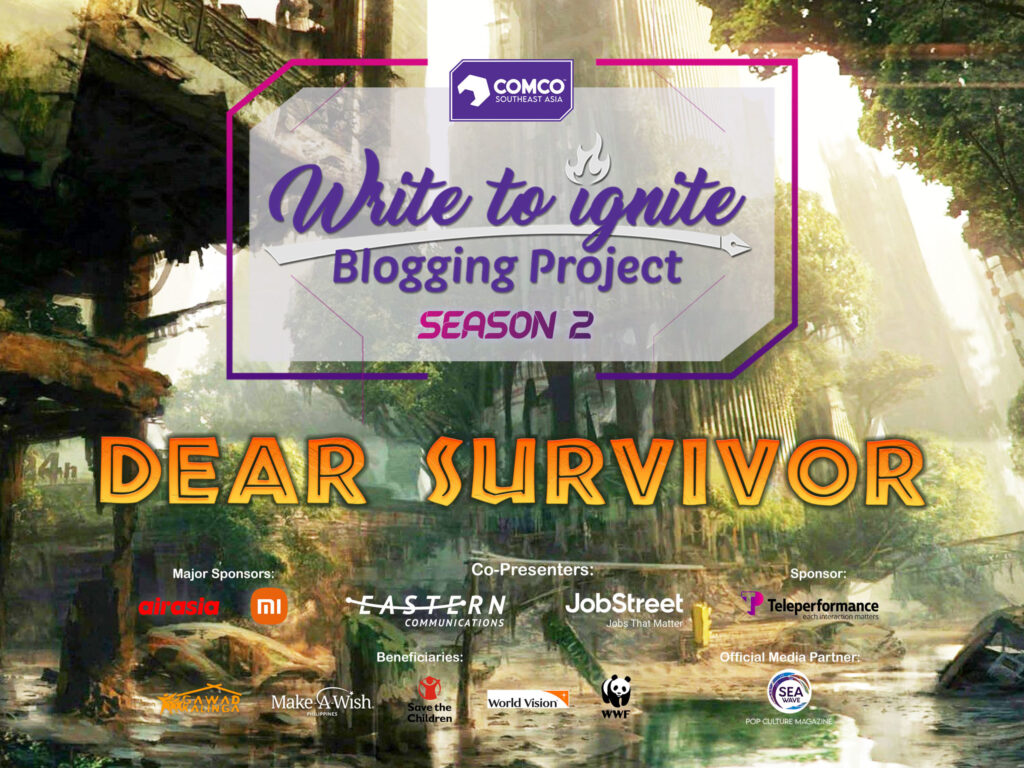 This story is an entry to ComCo Southeast Asia's "Write to Ignite Blogging Project Season 2: Dear Survivor". The initiative continues to respond to the need of our times, as every story comes a long way during this period of crisis. The initiative aims to pull and collate powerful stories from the Philippine blogging communities to inspire the nation to rise and move forward amidst the difficult situation. The "Write to Ignite Blogging Project" Season 2 is made possible by ComCo Southeast Asia, with Eastern Communications and Jobstreet as co-presenters, and with AirAsia and Xiaomi as major sponsors, and with Teleperformance as a sponsor.