When we talk about travel, we tend to cover rather specific attractions and getaways – the places you don't necessarily see highlighted on any old lists of the top places to see or things to do. An intimate exploration of Dau Falls fits the bill, or instance, as just one example. Here, however, we're looking more broadly not at particular destinations, but about how technology is poised to allow us to simulate travel anywhere in the world. Specifically, we're talking about virtual reality and its potential regarding travel apps.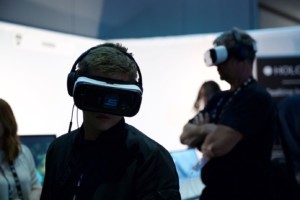 First, it's important to understand how VR has already evolved if you don't pay regular attention to the industry. What at first were limited, experimental games and apps have become far more impressive, to the point that we now see highly detailed, beautiful game settings. These are largely fictional, still, but they still give players the impression they've stepped into whole new worlds packed with beautiful and unexpected sights.
From this point, it's expected that VR will begin to focus more on bringing real-life environments to people's headsets. The prevailing example of how this is done comes from the simple format of online poker or blackjack play. "Live" casinos online already recreate the thrill of playing in brick-and-mortar establishments, and can even make it look as if players are playing in actual, famous casinos around the world. This, in VR, will be even more realistic. Virtual reality will likely accomplish the same feat in sports in due time, allowing gamers to take part in matches as if they're actually inside famous stadiums and arenas. You can see how the concept might evolve and expand.
Now imagine the same effort – to simulate versions of real places, rather than just create virtual worlds of fiction – applied to travel. VR has true potential to allow us to "visit" interesting places all around the world from the comfort of our own homes, and while it's not a concept that has been perfected just yet, there are several apps and programs that are diving into the idea. These are just a few of them.
Google Earth VR – Google Earth is a rather extraordinary tool for exploring the world even without VR. If you've used it before, you might imagine how it works. You can essentially pinpoint a location anywhere around the world, and instead of looking at it on your computer screen, you can look around in the first person as if you're there hovering above the scene, or even walking through it.
YouVisit VR – YouVisit VR has implications beyond just tourism, which are probably worth noting here. It brings brands and businesses to virtual reality by inviting users to experience not just places but specific events and destinations via VR. For instance, you can look around a restaurant in a foreign country, or visit a music festival remotely. It's a sort of combination of a fun travel experience and a useful advertising tool.
Boulevard – Boulevard is a little more limited, but it may also be a more comprehensive tourism mechanism in some respects. Basically, it allows users to visit specific museums and cultural exhibitions, and learn about the different displays they're looking at. So it's sort of like a travel experience that comes with its own guide. The only issue is that its reach isn't very expansive (mostly dealing with England and San Francisco sites).
Sites in VR – This one actually works a little bit like Boulevard, only with a broader focus on large attractions in more countries. For instance, you can take a close-up look at famous tombs or religious sites with this app. Its real calling card, however, is that it also helps you to virtually visit outer space!
Again, no one of these programs is perfect or all-encompassing. But they do address a lot of the top desires of people who love to travel. In a sense, they already let you travel anywhere in the world.