This year has been so good to this blog and yes
Goddess In Disguise
reached another milestone. Clap! Clap! Clap!
Goddess In Disguise made it to
BlogMeter
's list of Top 20 blog in the category Fashion and Beauty for the month of September.
This month, Goddess In Disguise has been nominated by several netizens in
#Bloggys2015
, Philippine Blogging Awards. This is a nationwide event that aims to recognize the best Filipino blogs and bloggers. Awesome, right?
I am so proud that among 2,693 nominations, only 1,026 blogs reached the next level which is the voting stage, and Goddess In Disguise is one of them. These blogs are displayed in the 2015 Hall of Fame. I'd appreciate if you'll do me a little favor by voting for my blog.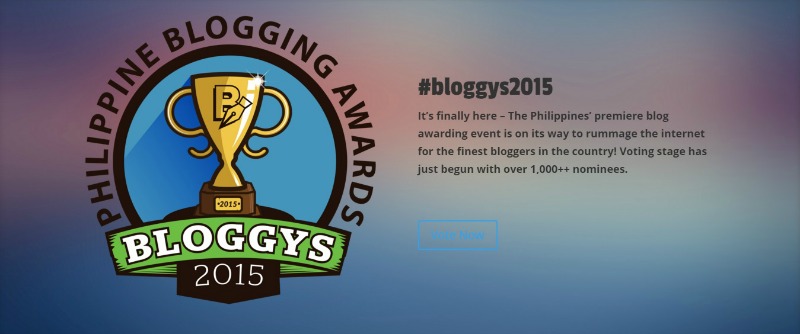 The voting stage is to determine the secondary category winner, which is the "People's Choice" and it is the jury's decisions to choose the finalists and the primary category winners. Voting period officially started last October 5, 2015, and will end on October 31, 2015.
HOW TO VOTE?
2. Look for goddessindisguise.com
3. Tick the check box then scroll down at the bottom of the page
4. Enter your Name, E-mail Address, Mobile Number (optional)
5. Click Vote via Facebook
Please note that you can only vote ONCE per section so make sure to tick the boxes of those blogs you'd like to vote. But before that, please support my fellow blogger friends from
Cebu Blogging Community
too.
Section 1 (A-D)
ablissfulblog.com
alyssanity.com
annescribblesanddoodles.blogspot.com
blissfulsnapshots.com
cebufinest.com
channelmarie.com
chasingbleu.net
chellelandia.wordpress.com
Section 2 (E-J)
exoticphilippines.info
goddessindisguise.com (ME!)
iamflip.net
jewelclicks.com
fueledbycaffeine.net
Section 3 (K-O)
mommywanders.com
kiatcebu.com
Section 4 (P-S)
pinoymetrogeek.com
Section 5 (T-Z)
theoddpodd.wordpress.com
twowaytravels.com
wander-soul.net
vanillahousewife.com
To be part of the long list of nominees is already an achievement. I hope you'd spare a little of your time to vote for us. Thank you so much 🙂